Budget Buenos Aires: Where to Eat Cheap in BA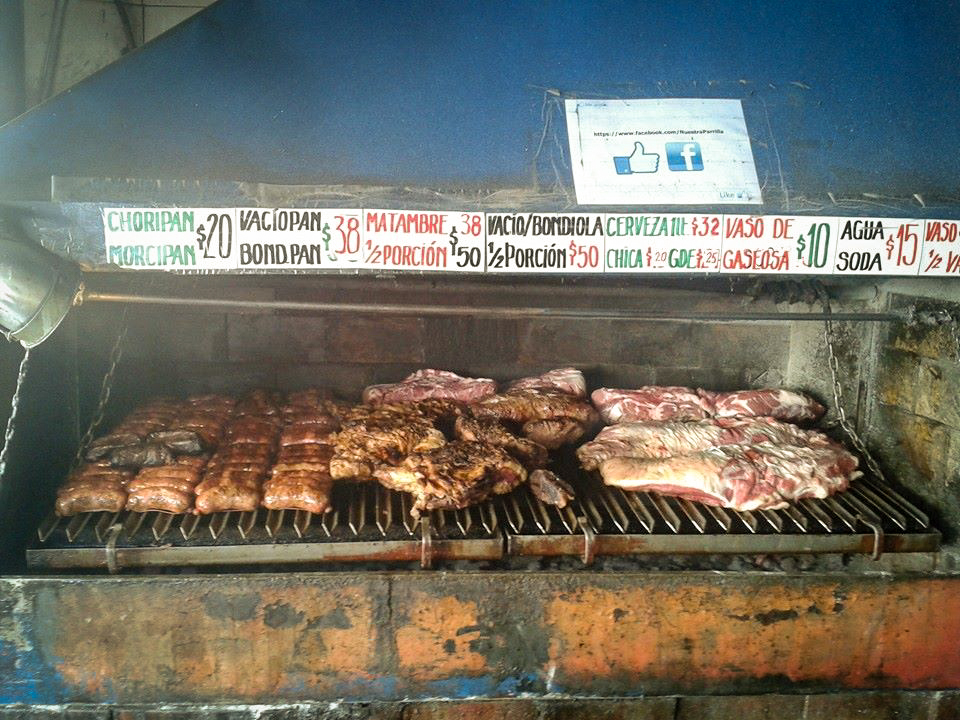 Buenos Aires is no longer the budget destination of $5 dollar steak dinners. Dining out isn't cheap, but you don't need to drop all of your Julio Rocas to eat well because great deals do exist. Back in 2013, I wrote a guide to the best Buenos Aires restaurants for cheap (and broke) bastards. But with soaring inflation, manic exchange rates, and an ever-changing BA food scene, it's time for a 2017 affordable restaurant guide update.*
From empanada shops, Chinese noodle houses, menú ejecutivo lunch specials, hole-in-the-wall grills, and cheesy Porteño pizza slices, it's possible to taste the entire city without spending all of your pesos. Here are over 50 delicious ways to eat out in Buenos Aires, even on a budget.
Original article via Eater.com: The 9 Must-Have Cheap Eats in Buenos Aires, Argentina.
Parrilla
Street food isn't a thing in BA. It means a few scattered parrillitas and mobile carts specializing in grilled meats and sandwiches. Choose your favorite cut, like bondiola (pork shoulder), churrasquito (boneless steak), vacío (flank), or lomito (thin filet), and slather with chimichurri and salsa criolla. Ask for it completo and your grill master will probably pimp it out with lettuce, tomato, ham, and cheese; order it a caballo and you'll get it topped with a fried egg. Choripán, or chori for short, is the unofficial national dish consisting of Argentine sausage on bread, and absolutely essential when eating on a budget. The morcipán — morcilla on bread — comes in a close second, if you are into the whole blood sausage thing. Word to the wise: keep your bread expectations low.
Where to get it:
Lo de Freddy/Nuestra Parrilla Bolívar 950, San Telmo. There are no fixed hours at this obligatory hole-in-the-wall parrillita, but Freddy, the asado master, is generally grilling around 1:30 p.m. to 5 p.m., and comes back after his siesta, 8:30 p.m. to midnight. I still keep going back even though Freddy once handed me a recycled CIF cleaner spray bottle filled with Minerva artificial lemon juice when I asked for lemon to squeeze on my bondiola. $ 
Parrilla Mi Sueño & Puestito del Tío Costanera Sur. Dozens of outdoor grill carts line the mile-long strip making the Costanera Sur BA's street food destination. Some say the carritos lost their luster when the government mandated a change from open flame grilling to gas, but it's still the city's street cart mecca. Many carts open 24 hours. $
Chori Thames 1653, Palermo. Go here for a chef's take (same owners as La Carnicería) on the iconic choripán street food dish. My pick? Homemade smoked chorizo washed down with a yerba mate gin and tonic or cerveza Marítima y Bosquisima, the new beer by co-owner/bartender Tato Giovannoni and Antares. Open all day, every day. $
La Parrilla de la Esquina de Sucre y Miñones Sucre 1902, Belgrano. This no-name grill on the corner of Sucre and Miñones has a major cult following. The lines spill out the door for their choripán. Open Tuesdays through Sundays for lunch only. $
Don Niceto Niceto Vega 5255, Palermo. It's totally socially acceptable to roll up to this casual local hangout in your pajamas. Pop up to the grill bar and order whatever looks good on the parrilla. $$
Lo de Charly Álvarez Thomas 2101, Villa Urquiza. Lo de Charly might be one of the only parrillas in the world where you can eat an entire grill plate of steak cuts and entrails all before 10 am. That's right, this neighborhood haven opens 24 hours, 7 days per week. Fun fact: the grill hasn't been shut off since 1991. $$
Parrilla El Litoral Moreno 2201, Balvanera. The popular taxi stop is known for their bondiola, pork shoulder sandwich. If there's no more room in the main salón, hop to the side window and order a meaty sandwich for takeaway. $
Las Cabras Fitz Roy 1795, Palermo. Dear kind person who waits hours for a table at Las Cabras, I don't really share your willingness to line up, but I get it might have something to do with the big portions, low prices, and lively atmosphere. Yours Truly, PUTFFFF. $$
La Escondida Costa Rica 4464, Palermo. This huge parrilla offers a solid lunch special under $200 pesos. The best part of all? The unlimited salad bar will satisfy any non-meat eater. Also ideal for large groups. $$
Desnivel Defensa 855, San Telmo. Sit down for complete steak dinner or pick up your choripán para llevar at this beloved San Telmo grill den. $$$
Bonus cheap eats tip: Famed fancy steakhouse La Cabrera offers 40 percent off the entire menu if you dine between 6:30 p.m. to 8 p.m. Just make sure to gobble everything down before your time is up, otherwise Cinderella's meat carriage will turn into carcass.
EMPANADAS
The baked or fried handheld savory pockets can be found on pretty much any city block, giving it everyday lunch, dinner, or snack status. But just because empanadas are everywhere, doesn't mean it's easy to find a great one. General rule: One or two empanadas are a snack, three or more are a meal. I'd like to give a shout out to little map that comes along with delivery empanadas to decipher the flavor, I need that on a tote. *For an extensive guide to the best empanadas in Buenos Aires, check out this article.
Where to get it:
Feria de Mataderos Av. Lisandro de la Torre and Av. de los Corrales, Mataderos. The Sunday gaucho fair hawks the best street food in the city, including two empanadas that share the same name. Look out for the double dose of empanadas salteñas: the deep-fried chopped steak empanada from Argentina's Salta province and the Bolivian empanada, a larger, sweeter baked empanada filled with stewed chicken or beef. $
La Cocina Pueyrredón 1508, Recoleta and Florida 142 #61, Centro. Order the house specialty pikachu, a spicy cheese empanada. La Cocina's second downtown location is hidden in the basement of a sketchy mini-mall on Florida Street and only opens for lunch. $
El Banco Rojo Bolívar 866, San Telmo. Adventurous flavor combinations bust out from empanada traditions, offering a whole new world of fillings like spicy braised lamb and blood sausage with apples. Beyond empanadas, Banco Rojo offers budget-friendly daily specials. $
La Carbonera El Salvador 4401, Palermo Ortiz. Forget what you know about Argentine empanadas because the Venezuelan variety are a different breed. Larger in size and fried, these are made with maíz pilado, a pre-cooked corn flour, the same dough used to make arepas. Standard fillings? Queso y tajada (queso fresco and sweet fried plantains), cazón (shark or fish), chicken, dominó (black beans and queso fresco), and of course, pabellón, the take on the popular rice-beans-shredded beef-plantain dish, with shredded carne mechada beef, caraotas negras, and sweet fried plantains. $
La Paceña Echeverría 2570, Belgrano. This family-run Belgrano empanada shop specializes in Bolivian empanadas, larger in size with a thicker, sweeter crust, and packed with a stew-like filling. La Paceña is one of the only spots where the empanada actually packs some heat. $
PIZZA
Pizza is a big deal in BA, the self-proclaimed pizza capital of South America. Peso-pinchers looking to fill up on a budget should order pizza con fainá, a common and strange duo of chickpea cake, similar to Italian farinata, on top of a slice of pizza, like napolitana (tomato and garlic), jamón y morrones (ham with roasted red peppers), or muzzarella (cheese). Fans of an obscene amount of cheese and onions, fugazzeta is the pizza for you. A warning: the useless napkins will closely resemble a toilet seat cover, so plan wisely.
Where to get it:
Pizzería Güerrín Av. Corrientes 1368, Centro. The wood-fired oven hasn't shut off since El Güerrin first opened in 1932. True aficionados will skip the dining room and brush elbows with locals, who eat pizza while standing in the front bar. Open daily until 2 a.m. $
El Mazacote Chile 1400, Montserrat. A barrio joint that is known for pizza a la piedra: pizza baked on a stone. Order the fainazeta, which combines two pizza loves, fainá and fugazzeta. $
La Mezzetta Álvarez Thomas 1321, Villa Ortúzar. This standing-room-only pizzeria, a popular taxi driver hangout, is known for its monster slices of fugazzeta. Cheese on cheese on ham on onion on cheese. $
Bandini Aizpurúa 2899, Villa Urquiza. Not everyone can handle a cheese-laden Argentine slice. If you're on the hunt for an Italian-style thinner crust, Bandini's wood-fired pizza has your name on it. There are only a few chairs at their Villa Urquiza local, so eat it curbside or bring the pizza home. And don't forget to try the green onion fainá. $$
BODEGONES
OK, I'm going to say it. It's really damn hard to find a Porteño bodegón that serves consistently good food, made with care, at an affordable price. Is there a nostalgic, picturesque bodegón out there that satisfies your stomach and your wallet? I'm talking no-frills tapa de asado al horno con papas, or a solid giant milanesa with perfectly fried french fries. It's also really damn hard to find a decent french fry, but that's a discussion for another day.
Where to get it:
Norte Talcahuano 953, Recoleta. The milanesa, basically a schnitzel, represents the essence of Argentine meat-and-potatoes comfort food. Veal or chicken is pounded thin, breaded, and deep-fried before being dressed with a plethora of topping options. At Norte, order the milanesa napolitana, a nod to Argentina's Italian heritage, which is covered in tomato sauce, cheese, and ham. You can order it with a side of puré (mashed potatoes) or french fries. $$
Don Ignacio Av. Rivadavia 3439, Almagro. There's a reason why they call Don Ignacio "the Milanesa King". The menu features dozens of milanesas so big that they don't even fit on the plate. Go with a simple suprema (chicken breast) or get inventive with some of Nacho's crazy flavors. $$
Club Eros Uriarte 1609, Palermo. Back in my day, when the colectivo cost a nickel, Club Eros was serving 10 peso steaks. Sure, in post-inflation BA those prices no longer hold true, but the sports club with an indoor fútbol field still prides itself on comida popular, at prices for the gente. $$
El Obrero Agustín R. Caffarena 64, La Boca. El Obrero might have lost some of its charm once the city's Hop-On Hop-Off bus re-routed to funnel tourists by the historic bodegón, but one step inside and you're transported back to 1910 when the humble joint first catered to Italian working-class immigrants. It's the epitome of porteño dining, a casual cantina serving parrilla, pasta, and Spanish tortilla omelets. The walls are decked out in soccer jerseys, and the dining room is frequented by generations of barrio characters. $$$
Bellagamba Multiple Locations. The other day when I looked at Bellagamba's menu, I thought they gave me an outdated version from 2014. This chain isn't going to make the 50 Best Restaurant list, but we have to give props for solid classic food at incredibly cheap prices. Just don't get too adventurous when choosing your dish, this is not the place to try milanesa Maryland or lengua a la vinagreta for the first time. $$
LATIN AMERICA UNIDA 
Argentina's Latin American hermanos turned traditional palates onto a new realm of flavors and spices, seriously influencing the local food scene in recent years. Today, we can thank many of the Peruvian, Bolivian, Colombian and Venezuelan expats for helping to make ingredients like cilantro, spicy chili peppers, and plantains readily available.
Where to get it:
Panachef Sánchez de Bustamante 1470, Palermo. Dig into an absurdly sized larger-than-your-head arepa at Panachef, a pioneer in the Venezuelan food scene. What started as a bar serving Latin-inspired sandwiches has turned into a full-blown Venezuelan restaurant featuring arepas, cachapas, and patacones. Go hungry, leave stuffed. $$
La Conga La Rioja 39, Once. Roasted Peruvian chicken is the answer for those seeking a hearty meal without a hearty price tag. La Conga, the Peruvian hangout that's always busy, is known for its ridiculously large portions at cheap prices. A whole chicken, salad, and french fries cost less than $300 pesos and can feed a family of four. Go with a large group and order specialties like papa a la huancaína, chaufa, tallarines, ají de gallina, and lomo saltado. Keep your eyes peeled around the entire Abasto neighborhood for Peruvian lunch specials: many offer soup, main course and drink for as little as $60 pesos. $$
Ají Dulce Paraguay 4597, Palermo. Don't miss the asado negro arepa with slow cooked panela-braised beef at this tiny Venezuelan arepería. Since the place is small, order for delivery or takeaway. $
Rinconcito Mexicano, Venezuela 484, San Telmo. There are only a few tables at Rinconcito Mexicano, the San Telmo hueco that specializes in simple Mexican dishes. Skip the chilaquiles (it was made with store-bought tortilla chips) and go for the tacos, burritos, or fajitas. If you like spice, make sure to let them know so they don't Argentine-ize your hot sauce experience. $$
Guaica Bar Florida 537, local 315. Centro. I discovered Guaica years ago on a failed IT visit to Galería Jardín. The bad news? The IT guy didn't fix my computer charger and short-circuited my laptop. The good news? I found this hidden Venezuelan gem in the basement of the shady mall.  My dish of choice is, and will always be, pabellón with sliced palta on the side. $
Kombinaciones Gorriti 5578, Palermo. Latin American street food takes the form of arepas, hot dogs, and Honduran baleadas. Word on the street: Kombinaciones is now doing a killer weekend brunch. $$
MIDDLE EASTERN
BA's Middle Eastern communities mean a few things: hummus, shawarma and a whole lotta babaganoush. You'll see Armenian, Syrian, Israeli, and Lebanese cuisines represented, all offering similar dishes, but each with a unique twist.
Where to get it:
Al Arabe El Salvador 4999, Palermo. This Syrian owned shawarma shop makes my favorite shawarma, hummus and smoked eggplant mtabal in the city. It's a savior when 5 pm on a Monday hits, and it's the only place open. $$
Teamim Díaz Vélez 4431, Parque Centenario. A taste of Israel in Parque Centenario. There's no menu at Teamim, just what's displayed on the chalkboard outside on the window. Most of the customers order food to take away, but there are picnic benches to eat the falafel, eggplant dip, and knishes in-house. $$
Sarkis Thames 1101, Villa Crespo. For over three decades Sarkis has served Armenian dishes to the masses. As it's one of the city's most popular restaurants, you can expect a wait for a table. Or, be smart like me and order takeaway, or go for lunch. Order like a pro: babaganoush, sarawak, tabbouleh, muyatra, and chicken kebab completo. $$$
La Esquina del Fatay Morón 3299, Flores. A legendary fatay shop near Koreantown. Fatay, also known as empanada árabe or sfija, is like a Middle Eastern open faced triangle calzone. $
Medio Oriente Cabrera 4702, Palermo. Fridays and Saturdays are the days to head to this corner bakery and try their infamous shawarma. The lehmeyun, AKA empanada abierta, AKA Armenian meat pizza, AKA meatza, also wins. $
ASIAN
From Chinese holes-in-the-wall to Pakistani kebabs on the go, and even South East Asian curry lunch specials, add a spicy kick punch while dining on a budget.
Where to get it:
Restaurante Mian Mendoza 1725, Barrio Chino. This Barrio Chino noodle soup shop has two menus: five dishes in Spanish or an extensive menu in Chinese. Ask for the Chinese menu and download a translation app, or channel your inner food creep, spy on the tables next to you, and order what they are eating. My go-to order: dumplings, steamed bun, and 5B picante, a noodle soup that will clear out cold symptoms. $$
Kebab Roll Honduras 5761, Palermo. Before he went brick-and-mortar, Shehryar Sumar popped up at festivals and events with his famous Pakistani kebab wraps and spicy soul foods. And now, out of his Palermo open kitchen, there are pre-made kebab specials every day, plus rotating dishes like chicken korma, eggplant coconut curry, biryani. $
Mongolian BBQ El Salvador 5090, Palermo. Don't let the black lights, oddly placed TV set, and mural off Genghis Khan scare you off. This is legit Mongolian BBQ. Here's how it works: grab a bowl and head to the salad bar buffet to choose your meats and vegetables. Then, hand it over to Nicolas, choose noodles or rice, add your sauces (get them all), and your spice (order it picante). Then, he will toss everything together on a massive Mongolian flat top grill, adding water instead of oil. HFA: healthy, filling, and affordable. $
Saigon Bolivar 986, San Telmo. One of San Telmo's best openings this year, Saigon brings Vietnamese flavors at reasonable prices. A bánh mì, bun, or pho with a half pint of beer set you back around $10 dollars. From Wednesday to Friday they also offer a special lunch menu that includes spring rolls, main dish, and a drink. $$
Green Curry Tucumán 271, Centro. We all need more curry in our lives. So, whether you are looking for some heat or just looking for a solid curry, Green Curry should be your downtown lunch of choice. $
China Work Mendoza 1663, Barrio Chino. A colorful display of unknown small plates, at 60 pesos each, sit on a steamer in the window of China Work just waiting to be devoured. I usually go for the spicy soup with tofu, bok choy and garlic, and sweet and sour eggplant. And it's China Work, not Wok. $
Shandong Vera 468, Villa Crespo. Shandong AKA China Roots AKA Chino de Vera AKA Da Dong Fan Dian offers everything I ever wanted in a neighborhood Chinese go-to: indifferent service, zero onda, and fairly priced fresh Chinese food. Order of choice: dumplings, dumplings, and more dumplings. I'm also really into the Napa cabbage or bok choy with garlic, fried tofu, spicy chicken, shredded pork and bowls of brotes. $$$
Kotobuki Delivery, Palermo/Villa Crespo. Ordering sushi in Buenos Aires is like flushing your money down the toilet. I searched far, I searched wide, and it's hard to find reasonably priced decent sushi that isn't loaded with cream cheese an. So far, Kotobuki is the best I've come across.  Keep it simple with the New York, Okinawa, Salmon Skin and Vegetarian rolls. $$$
VEGETARIAN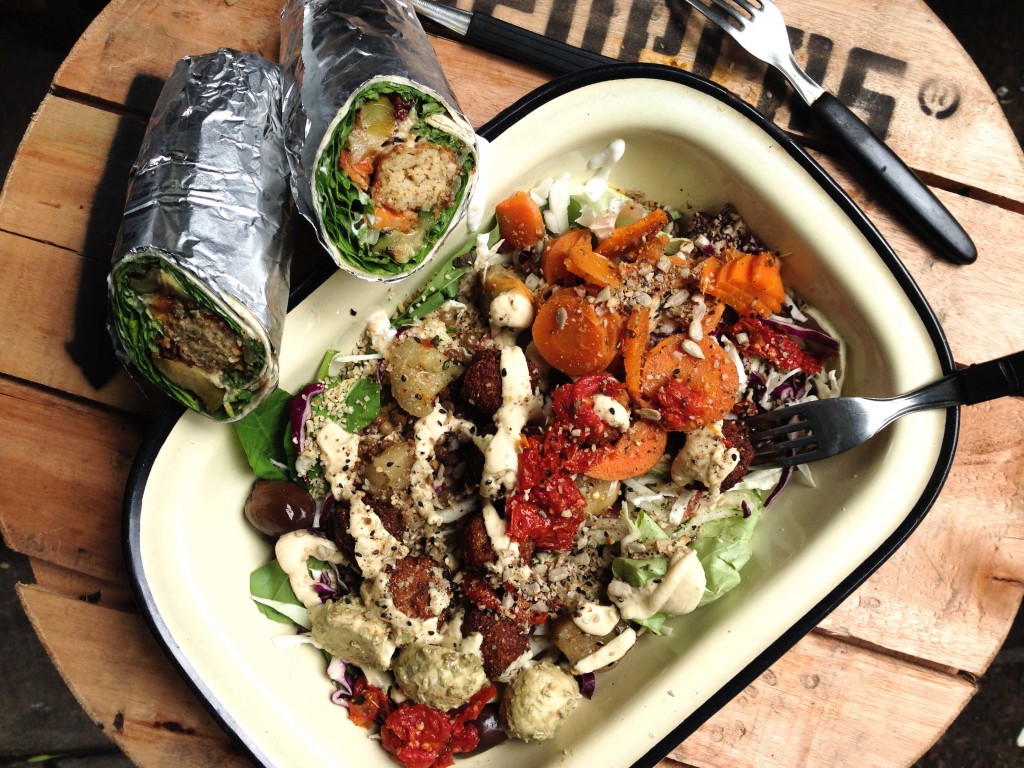 The whole vegetarians/vegans-suffer-in-beefy-Buenos Aires spiel no longer holds much truth. For decades, plant-based dishes on porteño menus were limited to sad lettuce-tomato-onion salads and French fries or mashed potatoes. I've seen waiters serve announced vegetarians chicken and ham, genuinely surprised upon discovering that these foods originate from animals, and thus, vegetarian unfriendly. But now, eating green got a lot easier.
Where to get it:
Rollin' Lui Jorge Newbery 3678, Chacarita. At Roll'in Luí, you won't even realize that meat is missing from the menu. Say goodbye to bullshit Palermo $200 peso wilted lettuce ensaladas, because these salads are no joking matter. Here, you can make the wrap into a salad, or design your own, throw some falafel on top, and devour the platter of nutritious power. If there was a Roll'in Luí in every barrio, being a vegan in Buenos Aires wouldn't be so bad. $
Spring Guatemala 4450, Palermo. Buffets, where you pay by the weight, have made quite an impression in BA. Some can be quite dangerous, giving diners a serious case of food regret after the hunger pains go away. If you must partake and eat your weight in food, do so at Spring, which uses fresh, quality ingredients. $$
Veggie Medio Oriente San Martín 545, Centro. A vegan-friendly Middle Eastern fast food shop that focuses on falafel, sabij, hummus, salads, and smoothies. $
SANDWICHES
Where do you go in Buenos Aires to sink your teeth into that perfect sandwich? With almost every café and restaurant serving up a sanguche of sorts, only a few really do it right at a fair price.
Where to get it:
El Buen Libro Reconquista 631, Centro. Beware of the long lines during the lunchtime rush at this takeaway sandwich kiosco. Half a milanesa sandwich (shown above) can feed two and costs less than USD $4. $
Bar San Martín Paraguay 2309, Recoleta. No trip to Facultad de Medicina is complete without a visit to old-school bar San Martín. The go-to order? Camperosandwich with ham, egg, and cheese. $$
Opio Gastro Pub Honduras 4415, Palermo. It's not easy to find a bánh mì sandwich in BA. In fact, it's nearly impossible. But Opio does it right with their version of juicy pork meatballs on homemade French bread with daikon, pickled carrot and red onions, and lots of cilantro. $$
La Cresta Bulnes 829, Almagro. Wraps are kind of like sandwiches, right? The OG of fast food chicken wraps delights Almagro with its creative flavors and fresh ingredients. #Bandido4Life $
Café Paulin Sarmiento 635, Centro. Sandwiches fly down the bar at Paulin, the famous downtown lunch spot that has since turned into a BA institution. The business crowd will swarm during lunch hours, so plan accordingly. $
Latino Sandwich Tacuarí 185, Centro. Not many places in BA are making sandwiches copados, interesting renditions stuffed with ingredients like braised beef and caramelized onions; a cubano; and crispy chicken with coleslaw. Luckily, Latino Sandwich is, and at a friendly price. $
NOLA Gorriti 4389, Palermo. Bow down to the king of all fried chicken sandwiches in Buenos Aires. I'm talking about a big mother clucker of a sammy: battered and deep-fried white breast between a fresh brioche bun, crispy shredded iceberg, and drenched in mayo and sauces. $
LUNCH SPECIAL
BA loves the executive lunch. A menú ejecutivo special that often comes with an appetizer, main course, and a drink.
Where to get it:
Sudestada Guatemala 5602, Palermo. Nothing beats Sudestada's midday steal, which is a fraction of the price of dinner. The interactive menu lets diners punch the holes (or hanging chads) to choose their own lunch adventure. The plato principal highlight: Bo Xao or carne salteado con verduras y papas, thin strips of tenderloin stir-fried with a vegetable medley and topped with fried onions. $$
Vinotinto Julián Álvarez 1602, Palermo. Every barrio needs a Vinotinto. Every day there's a different special, with dishes like pasta, grilled fish, burgers, sandwiches, plus a selection of salads, roasted vegetables, and tartas. There are even vacuum sealed packs of pre-cooked dishes to take home and pretend like you made it yourself. $
Fitz Roll Fitz Roy 1841, Palermo. Don't confuse the long line on Fitz Roy with Pago Fácil. Here, you'll find simple wraps and salads at incredible un-Palermo-like prices. $
Camping Av. Pueyrredón 2501, Recoleta. The outdoor "campsite" overlooking Plaza Francia serves a small menu that changes every day. On one recent sunny winter afternoon, I got down with comfort foods like slow-cooked lamb ragu, polenta, meatballs and couscous salad. Groups of friends (or friendly strangers) sit at communal picnic tables for lunch, and many hang out until after midnight. Music fanatics can connect to Camping's wifi, log into the website, and add songs to the communal music playlist. $$
BURGERS
BA has gone totally loco for hamburgers. In just a few years, burger offerings saturated the city with multiple hamburgueserías opening in every neighborhood.
DOGG Multiple locations, Belgrano/Centro. Dogg makes my favorite burgers in the city. I'm talking about a classic double patty smash burger cheeseburger with simple toppings like lettuce and tomato, or bacon and pickles. Beyond the burger, Dogg is known for its hot dogs, an all beef grilled dog that is nestled a pillowy fresh bun and served with glorious toppings like relish, pickles, and sauerkraut. Combos and promos run all day long. $$
Burger 180 Suipacha 749 //Sarmiento 985, Centro. Choose your own 180 gram burger adventure and top your burger with a choice of homemade sauces like barbecue, mayonnaise chimichurri, tzatziki, tartar, or dijonesa (mayo + mustard); and toppings like bacon, fried egg, provolone cheese, or ham. It's a beautiful (and slightly disturbing) sight to watch men in business suits attack burger, embracing the fantastic beast while the juices dribble down their chins. $
París Burger Suipacha 180, Centro. You have about a three hour window every week day to try París burger, the French-owned microcentro shop known for their thick, juicy burgers. Order off of the classic menu, or if you are feeling extra fancy, choose a burger from the menú francés, topped with French cheeses. $
Espacio de diseño con vistas al cielo de Belgrano
Piso 10 con vistas hacia el skyline de Belgrano.
Ideal para viajeros que buscan un espacio moderno, con un diseño único, mucha luz y comodidad en pleno Belgrano. Sobre la Avenida del Libertador. Cocina equipada, living integrado con amplio balcón. Dormitorio con vestidor y baño completo.
Ideal para visitar la ciudad de Buenos Aires en uno de las mejores zonas de Belgrano
Rates
Monthly: usd 1500 Weekly: usd 450
Studio Libertador Views in Belgrano w/pool & GYM
A modern and stylish studio apartment in Belgrano with great views of Buenos Aires and Belgrano.
Floor 11th with a private balcony ideal for a wine glass to enjoy the views.
High speed WIFI and TV. Equipped kitchen with Nespresso.
Brand new building with gym, pool and washing machine.
Queen size bed. Sofa & private balcony.
Modern and fully furnished! Ideal for travelers and digital nomads!rada súper completa, horno eléctrico, hornallas y cafetera Nespresso. Baño súper moderno con bañadera. TV con cable y WIFI privado! Edificio con seguridad 24 horas, una terraza con vistas inigualables y pileta, gimnasio y lavadero!
Rates
Monthly: usd 1200 Weekly: usd 350
Estudio de Diseño en el Bajo Belgrano c/ammenities
Departamento Studio en el Bajo Belgrano . Luminoso, moderno y de diseño!
Balcón para disftutar del espacio abierto! Cocina integrada súper completa, horno eléctrico, hornallas y cafetera Nespresso. Baño súper moderno con bañadera. TV con cable y WIFI privado! Edificio con seguridad 24 horas, una terraza con vistas inigualables y pileta, gimnasio y lavadero!
Rates
Monthly: usd 1400 Weekly: usd 450
Loft de Diseño en el corazón de Palermo Soho
Relajate en este loft único en Palermo Soho. Único, tranquilo y elegante a pocas cuadras de Plaza Armenia. Rodeado de la magia del Soho, este espacio completamente renovado y amoblado, es ideal para tu mejor estadía en Buenos Aires
Rates
Monthly: usd 1500 Weekly: usd 450
Chic Studio in Belgrano w/pool & GYM
This unique place has a style all its own. A beautiful and luminous studio apartment in Belgrano with nice views.
Floor 12th. High speed wifi and TV. Equipped kitchen . Gym. Laundry. Pool and balcony!
Queen size bed. Modern and fully furnished! Ideal for travelers and digital nomads!
Rates
Monthly: usd 1400 Weekly: usd 400